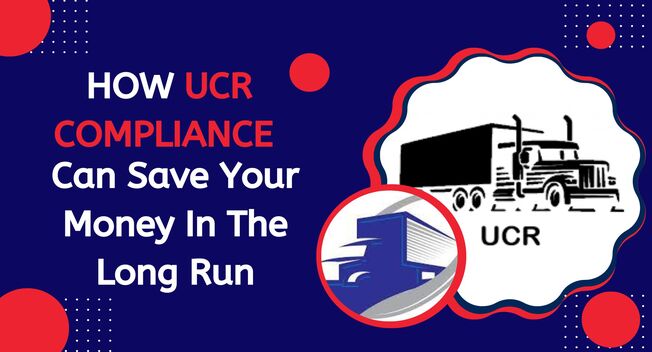 How UCR Compliance Can Save Your Money In The Long Run
Everybody seems to be talking about the UCR agreement. What does it mean for your company? The UCR agreement can be found in the 49 United States Code section 14504a. The UCR agreement or program was introduced by federal law in the UCR Act. This is a part of the Federal Highway Authorization Bill. This bill is also known as the Safe, Accountable, Flexible, Efficient Transportation Equity Act, a Legacy for Users Public Law 109-59. The UCR agreement was amended by the government under section 301 of the SAFETEA-LU Technical Corrections Act of 2008, Public Law 110-244.
Some changes were made to it under the Rail Safety Improvement Act of 2008, Public Law 110-432 as well. Right now, the unified carrier registration program is activated and you are required to register your vehicle in this plan if you fulfill any or all of the following requirements: 
If your vehicle has a gross vehicle weight rating of more than 10,000 pounds, you need to complete this registration as soon as possible.

All carriers that are placarded with a specific amount of hazardous materials are required to go for this registration as well.

If you are in the business of transporting more than 10 passengers and that includes the driver, and if you don't have your UCR, you need to get it right now.

If you are using any commercial vehicle that carries cargo over state or international borders, you are required to file your annual UCR regularly.

Also, individuals or companies that are involved in the arrangement of the shipment of goods must file their UCR fee regularly.

Entities Such As:
Brokers-Brokers can be persons or individual companies who sell or arrange for the transportation of any shipment by a motor carrier for compensation.
Leasing Companies-This entity is a person or a company engaged in the business of renting motor vehicles for compensation without drivers to motor carriers or private motor carriers or freight forwarders.
Freight Forwarder-These are entities that arrange for the transportation of cargo that belongs to other individuals or companies.
They are also required to complete their UCR formalities before they start operating.
Remember, if you are an unregistered motor carrier and intend to cross state lines, you could be fined heavily. Once your trucks or any commercial vehicle is pulled off the road, it is going to reflect very poorly on your reputation in the market. Also, it is going to take away a lot of your time, money, and resources to get your commercial vehicle back on the road functioning as it was before. A lot of businesses are not sure whether they are subject to UCR requirements or not. This is what the above-mentioned information helps you figure out.
Your unified carrier registration program filing is not going to cost you much. The entire amount depends on the total number of vehicles your fleet comprises. The larger your fleet is the more fee you will have to pay. In fact, brokers and leasing companies have to pay the lowest fee to register.
If you fail to pay your UCR program fee and if you are caught driving your commercial motor vehicle across state lines, the enforcement official has the authority to detain your vehicle. You could be asked to pay fines and penalties as well which could be somewhere between $100 and $5,000 and this range is for first-time offenders.
What To Do When Your State Does Not Participate In The UCR Program? 
Currently, there are 41 states in the USA that participate in the UCR program. The names of states that do not participate or as follows:
Arizona 

Florida 

Hawaii 

Maryland 

Nevada 

New Jersey 

Oregon 

Vermont 

Wyoming 

The district of Columbia
But this doesn't mean that you should avoid your UCR program registration or forget to get enrolled. If your home state does not participate in this program, you will have to purchase your UCR in the nearest state that participates in this program.
Purchasing Multiple Ucrs At Once
Are you allowed to do that? Can you purchase more than one UCR at a time? The entire unified carrier registration program is based on the unique us dot number that is given to a motor carrier by the government. Every business must have its UCR registration set up individually. If as a business you have forgotten to file your UCR for the previous year and if you have remained operational at any point of time during that year, you can file both your past UCR fee and the current UCR at the same time. You can easily avoid any fines and penalties by doing that.
There will be situations/developments when certain businesses will not have to register under the UCR any longer. If such a change has occurred in your business, you should update the same or your carrier record appropriately with the federal motor carrier safety administration.
You are also required to contact your DMV to update your business records with the Commonwealth. The UCR plan requires you to update your carrier information in a certain manner. Failure to do so is only going to invite an enforcement action or an explanation of your records by the authorities. You will have to explain yourself in the state audit process.
To Wrap It Up For You
It is very essential for you to understand just how important your UCR program is. It keeps you compliant with the rules and regulations defined by the US department of transportation and the federal motor carrier safety administration. Needless to say, it is also beneficial for you because it allows you to avoid any fines and penalties in the long run. So yes, contact your DOT service provider or third-party administrator to understand your UCR filings better. Also, the reinforcement begins 90 days after the registration period commences. So make sure to do the needful before it gets too late.